FAQ
Venue: 1021 Monterey-Salinas Hwy Salinas, CA 93908
Laguna Seca Recreation Area is located about 10 miles inland from the Pacific Ocean and the beautiful town of Monterey, 15 minutes from downtown Carmel and sunny Carmel Valley. Visitors from around the world visit this scenic destination to sample its fine wines, incredible restaurants, golf courses, beaches and our iconic and historic road course. The world-renowned track is just a two-hour drive from downtown San Francisco, three hours from Sacramento and five hours from Los Angeles
Drivers, Race Support Staff and VIP ticket holders enter the event from A Road off highway 68.
All other ticket holders enter the track via South Boundary Road. If VIP ticket holders happen to arrive at this entrance they will still be given access.
All tickets will be delivered electronically, please have them out and ready for scanning upon driving onto the raceway property.
Contactless payment for additional tickets will be available at A Rd. and South Boundary.

Ticket prices will be increased at the gate. Please purchase your tickets ahead of time!

If you already have your tickets, please have them out and ready for scanning upon driving onto the raceway property. If you have a parking permit, it should be displayed on your rearview mirror. The friendly folks at the ticketing kiosks will direct you to where you need to go for parking. Tickets may also be purchased at the gates with credit cards.
If you have a Driver, Race Support Staff, Driver's Guest Pass, Driver Experience or Elite 400 pass you will need to pick up your additional credentials at the Registration tent.

Sip & Savor Wristbands will be distributed at the Sip & Savor Pavilion, also known as the Turn 3 Pavilion.
All tickets are final sale and cannot be exchanged or refunded. Before purchasing your tickets, we urge you to confirm the title, time and location of the event.
Paved Preferred Parking or Car Corral parking for classic and exotic vehicles is available for purchase in advance.
VIP parking in the Blue 2 lot is provided for participant Drivers, Race Support Staff, VIP ticket holders and Suites.
General parking lots are available. Ambassadors will direct you onsite.
Handicap parking is available. To use a handicap placard be sure to bring paperwork showing your name and placard number and a valid driver's license.
Shuttles will be provided for guests from lots to the main race entrance.
No overnight parking within general admission, VIP or Car Corral lots.
Outside Food & Beverages are not permitted within the paddock.
Inline skates/skateboards
Lawn chairs and stadium-type seats with legs
Umbrellas in seating areas

Wagons
Weapons, including, but not limited to, guns, knives, stun guns and pepper spray.
Coolers are not permitted within the paddock.
Pets, except for our seeing impaired guests or for other ADA purposes, are not allowed into the paddock. Pets can be brought into camping areas, but must remain at your campsite.
All camping tickets will be delivered electronically, please have them out and ready for scanning upon driving onto the raceway property.
Check-in on Thursday Oct. 13th after 2:00pm pst, Check-out Monday Oct. 17 before 11:00am pst
Each campsite comes with one non-RV car parking spot. Additional parking spots are available for purchase ($50.00 for Thurs .- Sun.) on-site pending campsite size. All vehicles must fit within the designated camp site.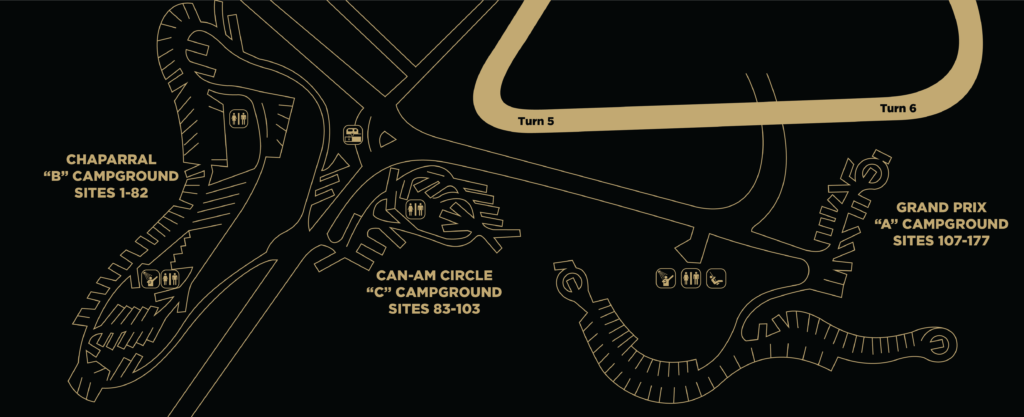 You must fit within the perimeter of your campsite . Keep all fire lanes clear. Violators will be towed at owner' s expense.
Campsites are limited to six (6) people. Children 15 and under are not included in the total number allowed in campsite.
Campsite accommodates one (1) RV or one (1) TENT in camping site plus one primary vehicle. All must fit within your site.
Absolutely no drones are allowed to be operated at any time in the facility .
Dumping grey water onto the ground is prohibited .
No firearms, fireworks, or weapons of any kind are allowed in the facility.
No on or in the ground fires allowed. Fires are permitted but must be in an enclosed container and off the ground – such as a patio fire pit or grill.
No off-road vehicles (ATV's or powered scooters). Registered and licensed vehicles only.
Mountain bikes are permitted on paved roads only.
The California Helmet Law is enforced on all Laguna Seca Recreation Area/WeatherTech Raceway Laguna Seca roads .
Picnic tables are not to be removed from the camping sites.
Canopies are not to be set up prior to the first day of paid camping.
Pets are allowed in the camping areas only and are to be on a leash at all times and may not exceed 6 feet in length when outside RV/trailer. Pets are not allowed in spectator areas, paddock , grandstands, hillsides, or Marketplace.
Sale of any product in designated camping areas is prohibited . If found selling a product, all products will be confiscated, and occupants will be ejected from the facility.
All signs advertising a product or business must be facing away from the track and facility roads. WeatherTech Raceway Laguna Seca Staff and/or Volunteers reserve the right to remove any signs that are deemed offensive or represent a conflict of interest.
No scaffolding or structures are to be erected within camping areas or on top of vehicles.
Standing or sitting on top of vehicles that are not designed for such use is prohibited.
Absolutely no admittance to the track side of the spectator fences.
One TENT or RV plus one primary vehicle in each campsite. All must fit within your campsite.
Smoking is only permitted in designated, non-seating areas and away from any crowds or lines of people. This also applies to e-cigarettes.
Permanent ATMs are located at the Raceway Café
Food and Beverages are available for purchase in our Wine Country Food Park and throughout the event.
Make sure you are prepared to spend a comfortable day at the races. The Raceway is a unique venue with changes in elevation, and the majority of the seat locations are not shaded. We recommend wearing comfortable, close-toed shoes, a hat and sunscreen and a jacket, as temperatures are cool in the morning and it can get breezy in the afternoon.